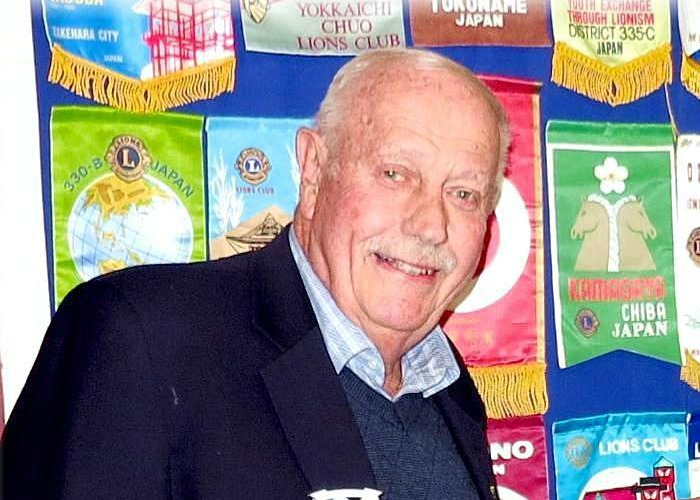 As I sit here writing this after the election and Winston Peters is sitting in his boat fishing it's anyone's guess who the next Government will be. It's a relief that Lions do not have MMP to decide their President. Well it has been a busy last few weeks; firstly the club's presentation to two of our most respected members. I refer to the recognition of Tony Blair and Dave Downie, the recipients of Melvin Jones Fellowship Awards. Congratulations to you both.
We are now entering our busy season where all our active members will be called upon after your winter hibernation. Please continually check your Lions Calendar. By the time this letter is published we will have done chips and fish (a first) at Owairoa School.
Our next dinner meeting is at another venue, the Celsius, at Botany. Our Secretary Alan will be giving a talk of his and Brian's adventures at the Chicago Centennial Convention. (As they took their wives it will be all good clean fun unfortunately). Then there is Howick Lions Open Day October 7. Don't forget October 25 is our Movie Night at Monterey Cinemas. October 28th is going to be busy, very busy. Sausages on Botany and also Chip Cooking at Star of the Sea School. Also this weekend is District 202K Convention in Orewa. We will be very logistically stretched. Then some light relief with Howick Historical Village painting on Nov 4th.
Coming up in November will be more fundraisers and Howick Midnight Madness, then it is onto December with Christmas Dinner at Tony and Shona's (thanks so much) and the Christmas Parade. Somewhere in there of course is the Christmas Lights. So we need to get some social fun in all this so we are working on a little project to be announced soon.
At the last Meeting we announced the findings of the Member's Survey which on the whole supported the way the Club is operating. We will be addressing those areas where members feel we could do much better. More on this in the near future.
We have some Members who are having medical procedures over the coming weeks and we give them our sincere support and any assistance we can provide for them.
STRENGTHEN OUR FUTURE.
President Colin Salt