An Annual Art Contest for Young People - Entries Open for 2021-2022

Each year, Lions clubs around the world proudly sponsor the Lions International Peace Poster Art Contest in local schools and youth groups. Howick Lions Club is promoting the contest for the east Auckland area.
If you live in the Howick, East Tamaki, Botany Downs, Flat Bush area, and are interested in entering the contest, then please contact Howick Lions Club by completing our 'Register Your Interest' form and we will send you all the details.
Eligibility
This art contest for encourages young people worldwide to express their visions of peace. Students, ages 11, 12 or 13 on November 15, are eligible to participate.

Promoting the Arts
Each year's contest consists of an original theme incorporating peace. "We Are All Connected" is the theme of the 2021-22 Peace Poster Contest.
Participants use a variety of mediums, including charcoal, crayon, pencil and paint, to express the theme. The works created are unique and express the young artists' life experiences and culture.


Spreading Peace and International Understanding
Twenty-four international finalists are selected each year, representing the work of more than 350,000 young participants worldwide. Posters are shared globally via the Internet, the media and exhibits around the world.
Dimensions & Media
Artwork must be no smaller than 13 inches by 20 inches (33cm by 50 cm) and no larger than 20 inches by 24 inches (50cm by 60cm). Do not mat or frame the artwork.
All media are accepted. Chalk, charcoal, and pastel entries must be sealed with a fixative spray to prevent smearing. Do not laminate entries.
Three‐dimensional entries will not be accepted. Nothing may be glued, stapled or attached to the artwork in any way. The use of lettering or numbering on the front of the poster is not allowed.
Artwork should be done on a flexible material, so it can be rolled for shipping. Do not fold artwork.
Only one entry per student per year and each entry must be the original work of one student. Duplicates are not accepted. All artist signatures or initials should be written on the back of the poster.

Judging
Each poster is judged on originality, artistic merit and expression of the theme.
Posters advance through several judging levels: local, district, multiple district and international. At the international level, judges from the art, peace, youth, education and media communities select one grand prize winner and 23 merit award winners.
This international contest is an opportunity for Lions Clubs to work with young people in their community to stress the importance of peace, tolerance and international understanding. Contest is open to children who will be 11, 12 or 13 on 15 November each year and will be asked to create a poster that visually communicates the contest theme.
Contest Deadlines
15 November Postmark deadline for a club to send one winning poster to the District Governor.

1 December Postmark deadline for a District Governor to send one winning poster to the MD Council Chairman.
15 December Postmark deadline for the MD Council Chairman to send one winning poster to the Public Relations Department at International headquarters.
1 February International winners will be notified on or before this date
NB: Entries that do not meet deadlines will be disqualified

Competition rules can be downloaded here: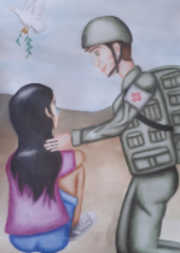 2020-2021 National Competition - First Place
Morgan Alley, Somerville Intermediate. Morgan's poster was sent to Lions Clubs International for judging in the International Competition.
2020-2021 National Competition Finalists