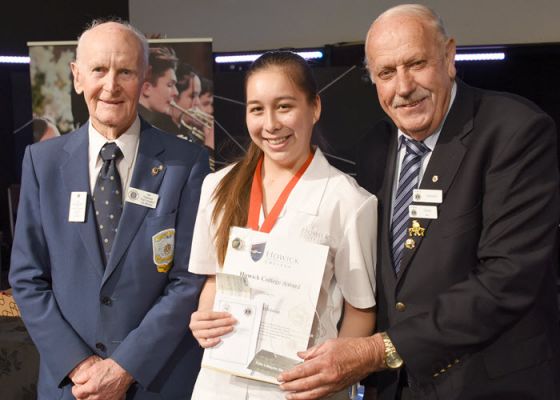 The Howick Lions Club Founders Award for 2017 was awarded to Kate Littlejohn (centre) by Past District Governor Ian Packwood (left) and Howick Lions Club President Colin Salt (right).

The Howick Lions Founders Award is awarded to a student of Howick College that has overcome adversity in their life and displayed courage to achieve at the highest level in their schooling career.
Kate sustained a brain injury when she was 4 ½ years old when she fell from a second floor balcony. As a result of this, Kate suffered from brain fatigue and subsequent effects on her learning and was placed in the Year 9 and 10 Homeroom class.

Funded by ACC, Kate has had teacher aide support throughout her 5 years at Howick College which helped her complete a full subject load in Year 11 gaining NCEA L 1 with Merit endorsement. In Year 12, she did 5 subjects instead of 6 and even with one less subject and the ongoing challenges she faces with learning, Kate achieved well over the requisite number of credits gaining NCEA L2, once again with Merit endorsement. Kate has managed to achieve a total of 79 Merit and 73 Excellence credits over the last 3 years.

Kate completes all schoolwork in a timely manner, participates in schoolwide and House activities and certainly demonstrates a student who has demonstrated courage in the face of adversity.